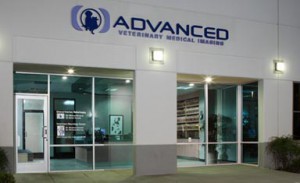 Advanced Veterinary Medical Imaging (AVMI) is a state-of-the-art diagnostic imaging center providing digital radiography, multi-slice CT, high field (1.5 Tesla) MRI, and ultrasonography as well as both diagnostic and therapeutic nuclear medicine. In 1986 AVMI became the first private practice veterinary facility to provide radioactive iodine therapy for the treatment of feline hyperthyroidism. Today, AVMI is one of a very few facilities in the United States that offer radioiodine therapy for canine thyroid carcinoma.
Our mission
AVMI strives to exceed our client's expectations by providing consistent, compassionate and superior care for our patients while providing ongoing supportive services for our veterinary colleagues.
State-of-the-art facility
Our 5000 square foot facility in Tustin, California, has been entirely designed from the ground up to accommodate the unique needs of our patients. Owners can access information about their pets 24 hours a day and view live images of their hospitalized hyperthyroid cats between 8AM and 8PM via our iCat webcams. We boast a spacious radiotherapy ward with spacious individual living quarters with large, elevated shelves for cats to stretch out on, as well as cozy bedrooms for napping. (Read more about our accommodations here.)
Staff
Michael R. Broome, DVM,MS, Dipl. ABVP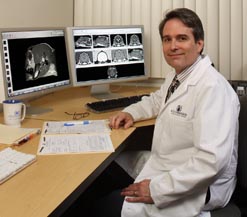 Dr. Broome is the founder, owner, and director of Advanced Veterinary Medical Imaging (AVMI). Over the last 30 years, Dr. Broome's clinical and research efforts has been directed toward advancing our understanding of the naturally-occurring thyroid disorders of the dog and cat, including  hyperthyroidism, and thyroid carcinoma. Dr.  Broome was awarded a Doctor of Veterinary Medicine (DVM) degree from the University of California, Davis in 1985 and completed his Master of Science in Comparative Pathology in 1986. He obtained board certification in American Board of Veterinary Practitioners, Companion Animal in 1992. Dr. Broome has published more than 20 journal articles, book chapters, and research abstracts, and is a frequent speaker at veterinary and medical seminars and local veterinary chapter meetings.
Lisa Norro-Broome, RVT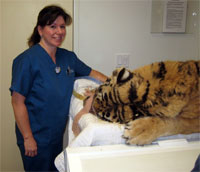 Office Manager
Lisa Norro-Broome has worked in the animal health field since 1987. She holds a Registered Veterinary Technician Degree from Mt. San Antonio College. She oversees communications for AVMI and assists with procedures.
Veterinary Technicians
Brooke

Rebecca

Renee

Sarah
Client Care Specialists