You've come a long way kitty!
Cats undergoing radioiodine treatment for hyperthyroidism not
only get the promise of a cure but a personal web cam to boot.


Shorter Stays
Back in 1985, when Dr. Michael Broome began treating hyperthyroid cats using radioiodine, things were very different than they are today. In those days the only facilities that treated hyperthyroid cats were veterinary teaching hospitals affiliated with large universities. The university teaching hospitals that initially offered radioiodine therapy for hyperthyroid cats were primarily focused on teaching students, and less concerned with the particulars of the radioiodine therapy experience.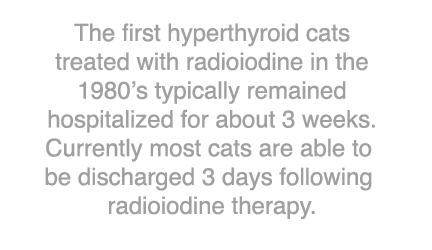 "I received my post graduate training in nuclear medicine and comparative thyroid physiology at one of the best universities in the world, the University of California at Davis." says Broome. The client and patient experience in a teaching environment like the Veterinary Medical Teaching Hospital at the University of California at Davis (or the VTHM as it is known by the veterinary students, residents and clinicians who work there) is however, affected by the logistics incumbent on a teaching facility. "When I started treating cats with radioiodine in 1985 the teaching hospital kept the cats in the hospital for almost a week before treatment to perform time consuming tests to determine the percent of iodine uptake and the effective half life of iodine in each individual hyperthyroid cat", says Broome. "Initially we thought these tests were needed to ensure the optimal outcome of the treatment." Subsequent studies, some authored by Broome during his post graduate work in Davis, have shown that those extra kinetic tests don't provide information that improves the outcome of the radioiodine treatment in most cases. Eliminating the need to perform those tests before radioiodine therapy reduced the amount of time hyperthyroid cats need to be hospitalized by close to a week.
Just like human patients, cats given radioiodine as treatment for hyperthyroidism do become temporarily radioactive themselves. It is this transient radioactivity that requires the veterinary facilities that perform this therapy to transiently hospitalize the cats to ensure limited interaction and contact with people. Radioiodine therapy for people with hyperthyroidism (primarily caused by a condition called Graves' disease) had been used for decades, indeed it was introduced in the mid 1940's. However, in 1985 there was little information available about the use of radioiodine therapy in cats with hyperthyroidism. As a result regulatory agencies, like the Radiologic Health Branch of the California Department of Health, were unfamiliar with how to regulate the process in cats. In 1985 cats treated with radioiodine for hyperthyroidism at the VMTH in Davis were required to remain hospitalized for 2 weeks after the radioiodine therapy.